Most Recommended Team of Orthopedic

Hyderabad's Knee Replacement Surgery.
Get rid of Joint Pain now !
Book a Free Consultation Today !

Error: Contact form not found.
What is Knee Replacement Surgery
Knee replacement, also known as knee arthroplasty, is a surgical procedure to replace the weight-bearing surfaces of the knee joint to relieve pain and disability. It is most commonly performed for osteoarthritis, and also for other knee diseases such as rheumatoid arthritis and psoriatic arthritis. (or) which diseased or damaged bone and cartilage in a knee joint are removed and replaced with an artificial joint
It is an effective and safe procedure that can help reduce pain, feel better, move better, and restore function to severely diseased knee joints.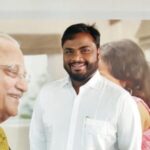 Dr. Harinath Bellamkonda
MBBS.MS Orthopaedics.
Much Orthopaedics.
Fellowship in Arthroscopic surgery. Sports injuries ,
certified Rheumatology care. (Nanavathi Hospital, Mumbai)


1
🙂Patients
1
Surgeries
1
+
Exp
Padmaja Hospital
Treatment Duration
Why Choose Us
10 : Frequently asked Questions
Padmaja Hospital
Bone & Joint: An advanced Orthopedics program offering comprehensive care.
Orthopedics is a medical specialty which focuses on injuries and diseases of the body's musculoskeletal system for patients of all ages. This complex system includes 206 bones and more than 350 joints besides other elements such as ligaments, tendons, muscles, and nerves that allows you to move, work, and be active.
Our Specialities


Treatment Duration
The Safe Procedure Comprises
Knee Replacement Surgery
4-5 hour post-surgery recovery in the hospital
Discharge by the 2nd of day
Full recovery within 30 days
Why Choose Us
24×7 ICU
Experience Doctors
Knee Replacement cases
Affordable treatment cost
Top rated Orthopedic surgery centre
Board certified Doctors 
Attached Diagnostics
10 : Frequently asked Questions
How long does it take to recover from knee replacement surgery?
How long will it be before I feel normal? You should be able to get off your crutches or walker and resume your normal leisure activities 6 weeks after surgery. However, it may take up to 3 months for the pain and swelling to subside. It can take up to a year for the swelling in the legs to go away.

Is a knee arthroplasty a major operation?
Knee replacement surgery is major surgery, so it's usually only recommended when other treatments, such as physical therapy or steroid injections, haven't helped relieve pain or improve mobility.

What is the best age for a knee prosthesis?
Currently, the median age of a patient undergoing knee replacement surgery in the United States is approximately 65 years old. In general, surgeons consider anyone under the age of 50 to be young for total knee replacement surgery.

How many hours does a knee arthroplasty take?
Total knee replacement
The procedure lasts 1 to 3 hours: your surgeon makes an incision in the front of your knee to expose your patella.

Is life normal after a knee prosthesis?
In time, you will return to your daily life. You may even be able to resume activities that you gave up when your knee pain started. Quality of life is likely to improve as you will be able to move around more easily than you have in some time

What is an orthopedic surgeon?
A doctor who specializes in the prevention, diagnosis, and treatment of diseases of the bones, joints, ligaments, tendons, and muscles is called an orthopedic surgeon.

How is an orthopedic surgeon different from an orthopedic surgeon?
An orthopedic surgeon is engaged in the prevention, diagnosis and treatment of diseases of the bones, joints, ligaments, tendons and muscles. An orthopedic surgeon, on the other hand, is an expert with extensive training in the correct diagnosis and in the non-surgical as well as the operative treatment of injuries and diseases of the musculoskeletal system.

What does an orthopedist treatment?
An orthopedic surgeon will diagnose and treat injuries caused by exercise or physical activity, help you manage conditions that usually worsen over time, such as arthritis or osteoporosis, and help you avoid the pain and discomfort that comes with related to frequent use of a muscle or joint.

When should I see an orthopedic surgeon?
If you have pain in your ankles, knees, hips, shoulders, joints, or back, you should see an orthopedic surgeon.

What operations does an orthopedic surgeon perform?
The most common orthopedic surgeries performed by orthopedic surgeons are ACL reconstruction, knee replacement, shoulder replacement, hip replacement, knee arthroscopy, shoulder arthroscopy, ankle repair, spine surgery, and joint fusion.
Our happy patients
feedback
Javeed ★★★★★ 3 days ago
A well equipped hospital with good infrastructure and hospitality. Doctors are so caring and being so skilled at what they do. Dedicated staff who offers best service. They clarify all your doubts at any point of time, even if you call them at midnight
  Sunny  
★★★★★ 12 days ago
Good Expert Orthopedic Dr. Harinath very friendly and supportive about explaining surgeries and Good End results
CONTACT INFO
MIG 15-25-527, Road Number 1, Phase I & II, KPHB Colony, Kukatpally, Medchal District
Landmark: Near GHMC Ground
Best Hospital in Hyderabad
Ph : 72888 03777

Need Help
With Knee Replacement ?
©2023 Padmaja Hospital. All Rights Reserved